This year's Beer & Cider Masters showed just how much the low- and no-alcohol sector of the category has improved in recent years, with some genuinely excellent brews receiving medals, writes Edith Hancock.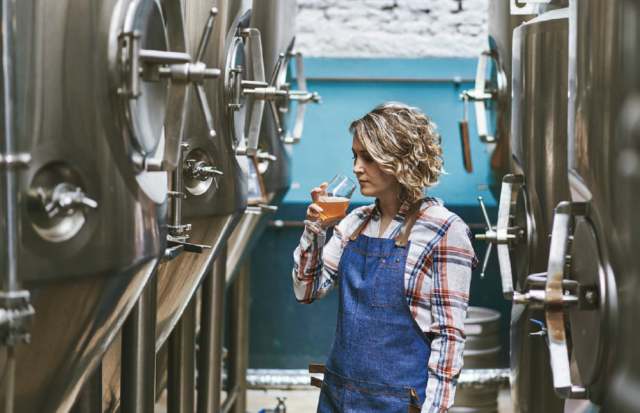 It could appear trite to call this year's edition of the Global Beer Masters unprecedented. This is the eighth blind tasting we have carried out in 2020 with full social distancing precautions in place. But, to paraphrase Churchill, never in the history of db's tastings have so many medals been awarded to so many alcohol-free beers made by just one brewer.
Over Skype, our judges tasted 76 beers and ciders, from crisp Pilsner to heady chocolate stout, but the category that shone most of all was low- and no-ABV.
The big winner was a company called Big Drop Brewing Co. Although just four years old, it has harnessed the expertise of some of Europe's greatest brewing minds to create what founder and former City lawyer Rob Fink thinks are "exceptional beers, that just so happen to be alcohol-free".
Two of Big Drop's beers were awarded Gold medals – the Woodcutter Brown Ale and a Paradiso Citra IPA – while the brand's Pine Trail Ale was handed a Master, the highest accolade possible that drinks can receive in our annual blind tasting series, and the first we have ever given to an alcohol-free drink. The Pine Trail Ale impressed, with pine and honey on the nose and a sweet malt flavour, resulting in a moreish beer, minus the ABV.
"Four years ago I was being laughed out of bottle shops and pubs," Fink tells db. "I'd stroll in with my alcohol-free stout and they'd tell me all alcohol-free beer is rubbish. I'd be thinking 'yes I know that, but we're changing it!"
One thing that sets Big Drop apart from others in the category is that, rather than using traditional methods of removing alcohol, such as vacuum distillation or reverse osmosis, the beers are fermented naturally to 0.5% ABV; a process the team believes helps the beers retain balance. The brand recruited Johnny Clayton, formerly of craft brewer Wild Beer Co, to help come up with a base method in which, essentially, more grain than normal is used in the initial fermentation period to create the body and flavour that is normally supplied by alcohol.
Now after four years the beers have started receiving awards not just in low-ABV categories, but in overall beer competitions as well.
"The awards are an external validation of what we're doing," Fink says. "We were the first, we think we're the best, and this is being confirmed with third parties – now quite regularly getting medals in full strength categories."
Another Suffolk-based brewer, St Peter's, also fared well in our low-and no-alcohol category, winning Silver medals for the alcohol-free versions of its original and golden ale. Our judges were struck by the unusual range of styles entered into this section, with stouts, porters, IPAs and even a sour beer making an appearance.
"The non-alcoholic category showed its growth is not only tied to changing consumer preferences but also increased quality in the beers themselves," Shane McNamara, global technical manager at ZX Ventures, and one third of this year's judging panel, said.
"Genuine variety and a focus on flavour has shown to benefit these types of beers, and I continue to watch with eagerness where this burgeoning segment of the beer landscape goes next."
LAGER
While last year we saw a plethora of well-made Helles lagers entered into our competition, this year, McNamara said, was more of a "mixed bag".
"Unbalanced bitterness and confusing aroma combinations led to what felt like beers that require further refinement and more intention from the brewer before release. "
However, that is not to say there weren't a handful of standouts in the lager category, notably from retailer Aldi. The challenger supermarket's Cape Cyan Natural Blonde Beer, produced by Storm Brewing Co in New Zealand, gained a Master for its balance and refreshing finish and light, but not out-of kilter, body.
IPAS
As we have seen, an increasing number of brewers perfect the art of stronger, hop-forward ales that appeal to younger beer drinkers, more outstanding beers were found in the IPA category this year than in previous editions of the Beer Masters. This, McNamara says, is "is certainly reflective of the market and its prevalence in terms of style. However, the variety of beers entered in the low-no ABV category show a more diverse approach to the segment, which wasn't present in previous years."
A special mention must go again to St Peter's Brewery, which gained a Master medal for its classic IPA; a full-bodied ale with with a zesty character and the hallmark amber colouring we've come to love in English India Pale Ales.
Across the Irish sea, a producer perhaps better known for its whiskey than beer also gained Golds in the IPA and Pale Ale categories: Dublin's Pearce Lyons Distillery. Produced exclusively for Aldi's stores by the brewer, the judging panel found its Roadworks IPA – introduced to the supermarket's shelves last year, to be accomplished and hitting all the right notes, and were impressed equally by its strong flavour and long, powerful finish.
PALE ALES
Much like the rise of the IPA, its slightly softer, entry-level cousin the Pale Ale has enjoyed enormous popularity over the past decade, and so the quality of these brews has only increased and the range diversified as brewers large and small compete for lager drinkers just starting to become interested in expanding their repertoires.
Another Irish brewer, Carlow Brewing Company, gained a Gold for its well-executed American ale O'Shea's Pale New Dawn. "Tropical and grapefruit flavours" came through from the rose-gold liquid, with just a hint of the lime flavour that usually comes out in West Coast pale ales. Dry on the palate, with plenty of pine resin, it offered the salivating sensation that American-style pales are so beloved for in the first place. Meanwhile, Black Sheep Brewery, from Ripon, North Yorkshire, secured a Gold medal for Hop Stepper, a beer it launched last year specifically for Aldi.
CIDER
This is the second year we have run the Cider Masters, and 2020 saw a diverse range of products lined up for our judges.
"The cider category this year showed a wide diversity of entrants," McNamara said, adding that the beverages that performed best were those that "expressed their naturality and balanced composition", rather than more colourful, sweeter, flavoured variants.
"Cider has so many more dimensions to it than sweetness levels and overdone fruit infusions. This year reflected the industry's renewed focus on craftsmanship and quality."
FLAVOURS
It was a similar result for our flavoured beer category, where citrus-forward styles were favoured over anything overly sweet and fruit-infused. Here, St Peter 's proved its versatility by picking up a Gold for its Citrus Ale, and securing Silvers for its Plum Porter and its interesting, nuanced Whisky Beer.
LOOKING AHEAD
And looking to 2021, we think it's very likely that we're going to see more diverse styles cropping up in the Beer Masters as more categories, from sour to the growing low-ABV segment, enter the mainstream consumer market.
"Less prevalent styles are always welcome," McNamara said. "There has been a trend for a long time in the US to revive lost, forgotten and overlooked styles. To see this kind of interest from brewers in other parts of the world would only enrich the landscape."
With high-quality judges and a unique sampling process, the Beer & Cider Masters provides a chance for your beers and ciders to star.
The top drops were awarded Gold, Silver or Bronze medals according to their result, and those expressions that stood out as being outstanding in their field received the ultimate accolade – the title of Beer or Cider Master. This report features the medal winners only.
Entry Deadline: Sunday, 10th December 2023
Sample Deadline:
Refunds cannot be given for samples that do not arrive on time.
Please ensure that all UK duty on samples is pre-paid. This can be done through your shipping company.