We bring you all the medallists from this year's Global Rosé Masters – taking in top-scoring wines from Greece, Turkey, Italy and France – and reveal our top five pink wine trends of today.

IT'S SAFE to say that the majority of the current discussion about rosé centres on the branding: how it looks, where it's seen, and with whom. After all, famous names aren't just sipping pale-pink drops, but producing them, with pretty-looking celebrity-backed bottles becoming more numerous by the year, adding to this pink category's cachet. It's been a valuable development for a part of the wine sector that once had a cheap image, based on off-dry examples, from Mateus rosé to Blossom Hill. Indeed, the new power of upmarket rosé, and the potential for further growth, including at a luxury level, has precipitated high-profile investments in the category, from fashion house Chanel to Bordeaux's Castéja family and then, most notably, luxury-goods conglomerate, LVMH, with its 55% shareholding in Whispering Angel producer Château d'Esclans.
But has rosé's new-found, premium-level success simply come about because it's pretty and pink? How good are the wines, what are the styles, and who's leading in terms of quality? It's the answers to such questions that prompted us to launch a rosé-only blind tasting for all styles and categories in 2014, with the inaugural Global Rosé Masters. And it's been revealing, bringing to light the changes taking place in this increasingly popular area of the drinks industry, from the shifting standards, to emerging characters, which we can update for 2021. Taking in the leading brands from benchmark regions, along with new releases from obscure areas, our comprehensive tasting is a health check of rosé today, while providing a guide to fresh sources of pink potential, perfect for the more adventurous buyer.
Before we reveal the results in full from this year's tasting – which you can see below – we bring you our thoughts on the pink wine category.
1. There's a high base standard in rosé today
If this year has taught me one thing, it's that the base standard of rosé is high, and newly elevated. While celebrities may have enticed drinkers into the delights of pink wine, the character of rosé has kept them coming back. The entry-point, pricewise, of dry rosé was full of Silver medal-winning wines, as pink producers master the challenge of creating something pale, textured and refreshing – ticking the three key boxes needed for rosé success at present. Whether it was pink wine from Romania or Spain, France, Italy or Portugal, there were sub-£10 wines with a pretty ballet-shoe appearance, ripe berry fruit, a touch of creaminess, and a bright, palate-cleansing finish. Achieving this requires careful management in the vineyard and cellar, but the techniques are clearly better understood in 2021 than ever before, judging by the increased number of good scores at lower prices in this year's competition. Where the points awarded dropped, it was for those wines that had overtly herbaceous flavours, suggesting the use of some unripe fruit, or those with an ersatz nature, with jammy, confected flavours mixed with a sharp citric acid edge. In other cases, lower scores were awarded if the wines were too light in feel and flavour, or simple, with short-lived characters.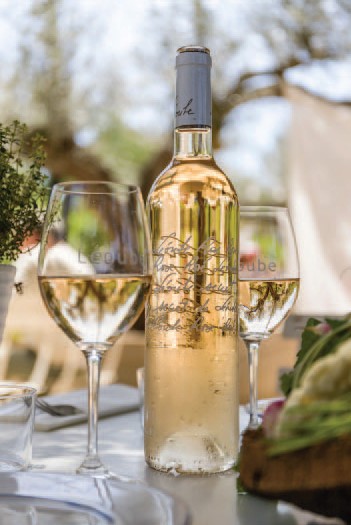 2. Top-end rosé offers ripeness and refreshment
A second major finding from this year's sample is the improved balance of characters in the more premium segment, those samples priced over £10. Among the great examples, which hailed in particular from Mediterranean climes, be they Provence, the Languedoc, Tuscany, or Greece, the pleasure of the pink wines came with this combination: flavours of ripe white-fleshed peach, a texture that was slightly oily, and a finish that showed a dry brightness from a fine, chalky tannin component and a gently bitter orange and grapefruit zest note. And while I don't mind what colour my rosé comes in, I did find that such a style does come with the paler samples.
In contrast, I found a stronger correlation between a bubblegum pink appearance and more confected flavours, although there were some very pale roses with jammy characters.
3. Oaked rosés are becoming more common and getting better
As for a third general discovery from this year's Global Rosé Masters, that came with the oak-influenced wines. It seems that more producers are turning to wood to impart a bit of complexity and additional texture to their rosés, and the results can be delicious. Sometimes, at the top end (Clos du Temple/Garrus), this influence is obvious, with new oak flavours evident, from vanilla to toast, and complementary to the ripe fruit. In other wines, it's there in a more subtle way, with just a hint of creaminess in a wine that's led by the flavours from the grapes used. In both cases, the end result is successful. What's less appealing is a note of wood shaving that doesn't seem integrated with the fruit flavours, giving it prominence at the start or finish of the drinking experience. And what's poor is when the porous oak staves bring about oxidative characters, often seen first in an orangey appearance, and tasted with flavours of bruised apple.
4. Provence sets the benchmark for rosé quality but the Languedoc is catching up
Fourth, in terms of sourcing, Provence does set the benchmark for wine quality for pale dry rosé, with or without oak influence. But, running it close, and in some cases matching it in terms of quality, and sometimes bettering it in terms of value, is the Languedoc. Notable here were the wines from the Vranken group, Foncalieu, Bonfils, and, leader of the pack, Gérard Bertrand, whose Château la Sauvageonne La Villa is an outstanding example of barrel-influenced rosé for a relative song – it's at least half the price of Garrus, and one fifth the cost of Bertrand's range-topping Clos du Temple, the world's priciest still rosé, which is around £200.
5. Bordeaux and Tuscany are regions to watch for fine rosé
As a fifth point on these rosés, there are two areas to watch for serious, top-end, fine pink wine. One is Bordeaux, which we've picked up on before with the rosés of Chateau Brown in Pessac-Léognan, and this year, with the delicious, juicy but bright pink wine from Vignobles André Lurton, called Diane. The other area is Tuscany, where the Frescobaldi family in particular is creating delicious, textured rosés using a range of grapes from Syrah to Sangiovese, and, like Provence, white grape Vermentino too (known as Rolle in France).
And finally… don't forget 'gris' when it comes to textured, pale rosés
As a final observation, it was notable how good some of the Gris wines were this year. Barely pink in appearance, they had a surprising textural richness, sometimes due to the character imparted by old-vine Grenache Gris (Domaine Royal de Jarras), or Pinot Gris with a little residual sugar (Fantinel's Sun Goddess) – a style of wine that reaches a delicious height as a blanc in Alsace.
As for my conclusions about sparkling wine, for powerfully flavoured, crowd-pleasing fun, pink Moscato is spot on, and for something less saccharine, the new Prosecco DOC rosés coming on stream offer a lovely, soft, peachy-fresh pink fizzy option. For something more serious, dry, and classic, then pink Cava is a fine, good-value alternative to the obvious, which is of course rosé Champagne. And here, the high-point was reached with a crisp, chalk, hazelnut, cranberry and apple tasting sparkling wine from Nicolas Feuillatte – which, at around £35 a bottle, comes at a great price for pink fizz from this French region.
Read on to see all the medallists from this year's competition as well as how to enter future Global Wine Masters. 
About the competition
The Global Rosé Masters is a competition created and run by the drinks business, and forms part of its successful Masters series for noble grape varieties, such as Chardonnay
and Pinot Noir; major wine styles, from sparkling to fortified; and famous regions including Rioja, Champagne and Tuscany. The competition is exclusively for rosé. The top wines were awarded Gold, Silver or Bronze medals according to their result, and
those expressions that stood out as being outstanding in their field received the ultimate accolade – the title of Rosé Master. This report features the medal winners only.
Entry Deadline: Thursday, 7th December 2023
Sample Deadline:
Refunds cannot be given for samples that do not arrive on time.
Please ensure that all UK duty on samples is pre-paid. This can be done through your shipping company.