Prosecco has taken the world by storm, thanks to its easy-drinking qualities. And now, with rosé expressions having been given the green light, there is more choice than ever for the world's fizz lovers. We reveal the stylistic trends and best wines from The Prosecco Masters 2021.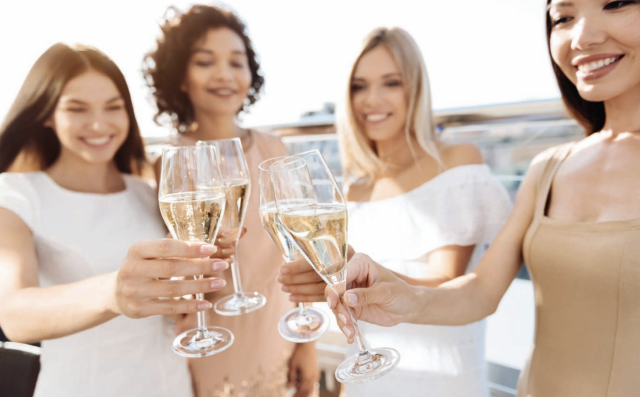 So you work in marketing, and you're considering how to create a new category of drinks? What's the best approach? And where should one draw inspiration? Prosecco is the ideal place to look for ideas. That's because it has managed, in a relatively short space of time, to become a 500 million bottle a year business, taking sparkling wine mainstream, well beyond it traditional association with celebratory times. As a result, almost any occasion is ripe for sipping this light, aromatic Italian fizz, which is now by far the largest sparkling wine type in the world in terms of volumes sold.
If you are involved in marketing, then you'll want to consider every aspect of its success, starting with the four p's of product, price, place and promotion. And Prosecco scores well on all counts, with its fairly low cost, broad distribution, combined with positive Italian associations and its easy-to-pronounce memorable name.
But, when it comes to lasting success, it's the product that's key – both in terms of style and quality. And it's this aspect that the annual Prosecco Masters seeks to consider, providing, in essence, a health check on the category.
When it comes to this year's results, it's clear that the base standard is high for Prosecco. Even at the cheapest end of the category, the wines were clean, refreshing, with fresh, ripe fruit. This is key to Prosecco's performance, as it means that the customer isn't disappointed.
Not only that, but with wine taste and style fairly similar at the lower end of the price spectrum, it's a drink that offers a predictable, consistent experience. It's not one of those categories where there are swings in sweetness levels, differences in texture, or variations in fruit expression.
While this relates to the region: Prosecco uses, in essence, one grape to create one style of wine, it's also connected to technology – the region's producers employ state-of-the-art winemaking equipment to create pristine fizz, which tends to be bottled to order. As proof of this, among almost 200 samples in 2021's Prosecco Masters, there were fewer than a handful of wines where I detected a touch of tired fruit.
This is a wine style where the freshness relates to a number of factors, including the fizz and, the bright acidity, but also, notably, the just-picked taste of the fruit that's used to make the product. Be it crisp apple, ripe pear, or sweet peach, with Prosecco there's nothing faded in the taste.
It's a pristine drinking experience. And, combine that with its aromatic, distinctive nature, and you have something pleasing and easy to identify. Such traits have also been key to the remarkable performance of New Zealand Sauvignon Blanc in this century.
But that's not to suggest there aren't differences in Prosecco. One reason for variation relates to sourcing, in particular, whether the grapes were grown in the hillier historic areas of the region, the DOCGs of Valdobbiadene, Conegliano and Asolo, as opposed to the generally flatter plains of this part of Italy, which are used for the much larger Prosecco DOC. Generally, the DOCG offerings are a touch more expensive, and are deemed to be better quality, but is this always the case?
From both parts of Prosecco, there were outstanding samples, suggesting that top sites in the DOC can rival those of the DOCG.
However, in my experience from this year's competition, and previous ones, the DOCG sparkling wines tend to have a purer, more defined fruit expression than the DOC Proseccos at similar prices. The former also tend to have a bit less sugar too, requiring the fruit in DOCG wines to be faultless and fully ripe, while allowing the taste of such fine grapes to shine, without the masking effect that can arise from perceptible sweetness.
In other words, if you like combination of ripe peach and crisp apple, then good DOCG Prosecco will provide it. And if you are content with a simpler sweet pear sensation, then DOC will deliver it.
As for a further general point, when it comes to low-sugar Prosecco, the DOCG of Asolo appears an especially good place to go, as the fruit character from this lesser-known and smaller area tends to be richer, and riper, making it in need of less sweetness.
Furthermore, if you want something with a distinctive personality, a Prosecco with greater complexity, then seek out the Rive classification, which is used for the best sub-regions of the DOCGs, where hillside vineyards tend to yield sparkling wines with intensity, and layers of flavour.
The go-to producer for these styles is Andreola, which manages to capture Prosecco at its best, with its orchard fruits, citrus zest, and floral aromatics, even a chalky character, more commonly associated with Champagne or English sparkling wine.
For richness, sweetness, power, and complexity, then Cartizze is the pinnacle of Prosecco – but it's pricy. Nevertheless, it presents the ultimate expression of tank-method fizz. And should, in my view, be richly sweet, and refreshingly racy – a style perfected by Bisol1542.
The subject of sweetness levels is important for Prosecco. That's because some of the drink's appeal lies in the fact that it's not too dry, or firm, but soft and creamy-textured. And for that, a fairly high level of sugar is required, around 13g/l-15g/l being a level that provides richness without tasting saccharine.
But, as noted, lower levels, including Extra Brut (sub-6g/l), can be palatable if the fruit is fully ripe. Nevertheless, such a style can surprise your average Prosecco drinker, who is used to Prosecco's gentle, pleasing sweetness.
Finally, what about rosé? As the newly allowed sub-category of DOC Prosecco – bear in mind that DOCG regions have not authorised this colour variant – there is much excitement about its arrival. While this is justified on the basis that pink fizz is popular, and so too in Prosecco, in terms of the product, Prosecco rosato is not a markedly different proposition in terms of taste.
Made by adding 10-15% wine from Pinot Noir to the white wine base for making Prosecco, the character of the wine is similar to its long-standing blanco variant: the Prosecco Rosés I tasted combined plenty of the usual peach and pear fruit you find in blanco Prosecco, but with a hint of crushed strawberry, and sometimes a touch of bubblegum.
One thing I did notice related to colour: of the some 40 Prosecco rosés I sampled, all of them were pretty much the same shade of pale salmon pink. It seems producers are not going to risk anything deeper in terms of colour appearance. That's doubtless because the pale hue of Provencal rosé has influenced the world of pink wine producers, sparkling ones included, especially the commercially-savvy ones in Prosecco.
About the competition
The Global Prosecco Masters is a competition created and run by the drinks business, and forms part of its successful Masters series for noble grape varieties, such as Chardonnay and Pinot Noir; major wine styles, from sparkling to rosé; and famous regions including Rioja, Champagne and Tuscany. The competition is exclusively for Prosecco. The top wines were awarded Gold, Silver or Bronze medals according to their result, and those expressions that stood out as being outstanding in their field received the ultimate accolade – the title of Prosecco Master. This report features the medal winners only.
Read on for the list of all the medal-winning wines in this year's Prosecco Masters, as well as further information about the competition. 
And you can click here to read my read top 10 Proseccos for all styles and occasions, compiled using the highlights from this the 2021 competition. 
Entry Deadline: Monday, 25th September 2023
Sample Deadline:
Refunds cannot be given for samples that do not arrive on time.
Please ensure that all UK duty on samples is pre-paid. This can be done through your shipping company.